The Hindu, Vladimir Radyuhin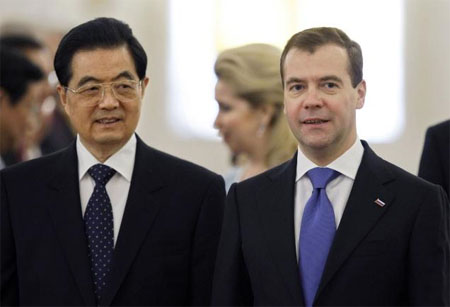 Russia and China have agreed to increase bilateral trade to $200B by 2020 and vowed to build "strategic" ties in energy even as they continue to wrangle over the price of Russian gas.

The two countries will strive to boost two-way trade to $100B by 2015 and to $200B by 2020, said a joint statement signed on Thursday by Presidents Dmitry Medvedev and Hu Jintao to commemorate the 10th anniversary of a friendship treaty between the two countries. The Chinese leader is paying a two-day visit to Russia after attending a summit of the Shanghai Cooperation Organization in Kazakhstan.

China is already Russia's biggest trading partner, with bilateral trade soaring 50% last year, to $59B. By comparison, India's trade with Russia stood at $8.5B in 2010 and is projected to grow to $20B by 2015.

Russia and China decided to "form long-term strategic energy partnership" in oil, gas, nuclear, coal, electricity and renewable energy.

However, the two countries failed to sign, as expected, a mega-deal for the supply of Russian gas to China. After two years of hard-nosed bargaining the sides still cannot agree on the price, with Russia insisting on a "market price," close to what Russia charges its customers in Europe—$352 per 1,000 cubic meters of gas—whereas China is not prepared to pay more than $235.

Under a 2009 agreement Russia is to build two pipelines to China to supply a total of 68B cubic meters of Siberian gas a year from 2015 to 2030.

Earlier this year Russia started pumping oil along a newly built pipeline to China under a contract to supply 300M tons of crude through 2030.