Courier Mail, John McCarthy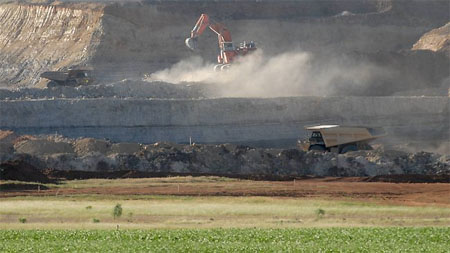 A plan to lock away vast areas of Queensland from mining, a policy designed to protect the best cropping land, was based on flawed science, according to the mining industry.

A scientific peer-reviewed study, commissioned by the Queensland Resources Council, found the government's criteria for its strategic cropping land policy was not reliable and did not come up with a proper definition of the land it wanted to protect.

The scientific team, from consultants Palaris Mining, said the policy was deficient and risked identifying land incorrectly, "leading to either the sterilization of marginal land from appropriate development or the risk of alienation of strategic cropping land by inappropriate development".

The QRC said the scientific review raised serious doubts about the SCL's effectiveness.

QRC chief executive Michael Roche said the review found that the Government's draft soil criteria "cannot reliably call out the best cropping land".

Mr. Roche said the current policy's reliance on maps to illustrate similarities in climate and rainfall failed to reflect important productivity variations between and within regions.

But Environment Minister Kate Jones said the policy was based on sound scientific advice and was peer reviewed.

"We engaged some of Queensland's best soil scientists to do this work. The criteria was tested and validated against 128 soil samples from across these areas," Ms. Jones said. "I sat down with the QRC months ago where we went through the criteria and they were not able to present to me any genuine technical issues."

Ms. Jones said she would ask her department to investigate the review, including any genuine technical issues in the SCL policy.

Agforce spokesman Drew Wagner said the QRC report was likely to only add to the mystery and confusion about strategic cropping land when farmers wanted certainty.