The Wall Street Journal, Keith Johnson
In a bid to save lives and money, the Department of Defense on Tuesday presented its first plan to change how it uses energy on the battlefield.
The military hopes the new plan will pay dividends both on the battlefield, by creating more lethal and more agile troops, and in budget-conscious Washington, by saving money over the long term with more-efficient gear.
The Defense Department is the biggest single energy consumer in the U.S., spending $15 billion on fuel last year. The Air Force alone uses more oil than some small countries. Some 80% of convoys in Afghanistan are devoted to carrying fuel. Because of the threat from roadside bombs and ambushes, Marines estimate one service member is killed or wounded for every 24 convoys. In World War II, a soldier consumed an average of a gallon of fuel a day; in Iraq and Afghanistan, soldiers consume about 20 gallons a day, with half going to electricity generation.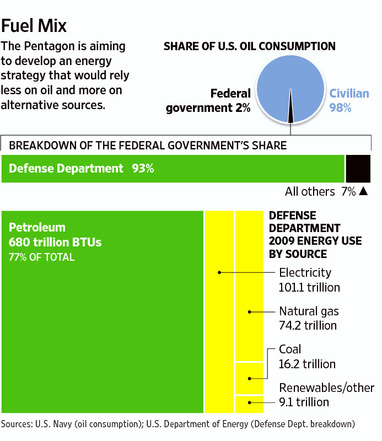 The new strategy's focus is on operations, including training, deployment and support of military forces in the field. Those activities account for about 75% of the Pentagon's energy use. Only one quarter of the energy is consumed on bases.

While the energy strategy is new—the product of a congressional mandate in the 2009 defense authorization bill—separate branches of the service have been grappling with energy problems for years, with mixed results.

The next priority is to diversify energy supplies, with a special focus on biofuels and renewable energy. "The realities of global oil markets mean a disruption of oil supplies is plausible and increasingly likely in the coming decades," the energy strategy concludes.