CBC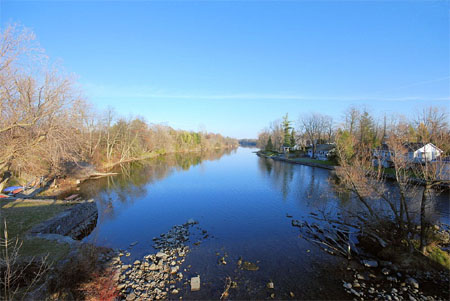 A community group in Burritts Rapids, Ontario hopes to build its own electric-generation project on the Rideau River. The Burritts Rapids Renewable Energy Association plans to harness energy from the existing dam in the village, with any money made in power generation going back into the community.

Mary Hegan, whose home is closest to the dam, is spearheading the micro-generation project. She said the plan is possible due to a combination of new legislation, support from the community of about 200 and technology that makes such a project financially viable.

"We are learning that there's emerging technology where we can get a very small turbine to be inserted into one of the sluice gates of the dam," she said.

Hegan points out the dam straddles the City of Ottawa and North Grenville, who must be brought on board, as well as Parks Canada, which owns the dam and the water rights, and the Ontario government, which deals with energy projects.

The group is in the process of getting a permit from Parks Canada to have first rights to developing power at this site.

Local residents will have their say also in what is expected to be a $3 million project.

"Personally I'm very excited," said Inge van Gemeren, who chairs the Burritts Rapids Community Association. "It just makes sense on so many different levels. I don't want to say there's opposition, but there's certainly a lot of questions. Folks don't understand what all the impacts may be."

Concerns include noise and the visual impact, she said.

Hegan says the renewable energy group would like to see any future profits go back into projects, events or the "precious" local community hall.