Contra Costa Times, Paul Burgarino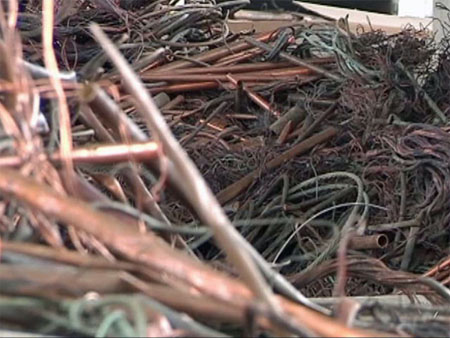 Pacific Gas & Electric workers were shocked this month to find a 45-foot wood poles along the railroad tracks chopped to the ground in what officials say is the most brazen local case to date of copper thieves targeting PG&E property.

Wires were removed from the transformer atop the pole, and a handsaw was found on the ground.

The utility is accustomed to a certain level of property vandalism but says it has seen a surge in copper thefts in recent months in the area of Antioch north of Highway 4.

Thieves have swiped copper from about 300 poles in Antioch since the beginning of the year, compared with fewer than 10 in 2010, company spokeswoman Tamar Sarkissian said last week.

"It's definitely been more dramatic than what we've seen in the past," she said. "It's unbelievable some of the lengths people are going through just to take a few feet of copper wire. Not only is it illegal and a nuisance for customers, it's dangerous."

Utility poles, buildings, park lights, construction sites, abandoned homes and catalytic converters, railroad switches and air-conditioning units on top of businesses are other attractive targets.

After dropping to $1.25 a pound in 2009, scrap copper is now approaching $4 per pound. Other metals such as platinum and aluminum are also selling for more money than before.

The chopped pole found next to Auto Center Drive on June 6 was particularly dangerous because the lines were energized, Sarkissian said.

PG&E spends about $500 to replace wiring after an average theft in Antioch, which nets thieves about 75 cents to $1, Sarkissian said. The utility is using wiring with thicker molding to deter thieves, she said.

PG&E lost about $290,000 in copper theft systemwide in 2010, and already lost $133,000 this year through May.