Los Angeles Times, Tiffany Hsu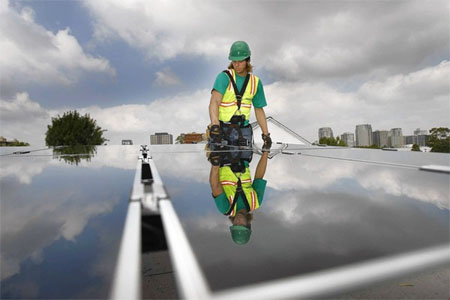 In a move that could boost solar energy use in homes, Google Inc. is creating a $280M fund to help finance rooftop installations.

The Internet search giant, an avid investor in renewable energy technologies, said the deal with SolarCity, a solar panel installation company based in San Mateo, Calif., is the largest green investment it has ever made.

The Solar Energy Industries Assn., a trade group, said residential installations nationwide have grown steadily and are expected to keep expanding this year. It said that by the end of 2010, home solar panels were capable of producing 74 megawatts of electricity, enough to power about 74,000 average California homes. That was up 33% from the beginning of the year.

More affordable financing options were key to the increase, analysts said. SolarCity is known for its lease programs and power purchase agreements, which allow customers to avoid the tens of thousands of dollars of upfront expenses.

SolarCity will use the Google fund to pay for installation and maintenance costs. Customers pay only for the electricity produced by the panels, usually in monthly installments. Google will get a cut of those payments.

SolarCity says more than 80% of the 15,000 projects completed or underway nationwide involved some kind of financing instead of a full upfront payment.

SolarCity is Google's first venture into the residential solar market, but the search giant is far from a clean-tech novice. The company has put nearly $700 million into wind farms, solar power systems and electric vehicle programs.

In April, Google invested $168 million in a solar thermal plant in the Mojave Desert. BrightSource Energy Inc.'s Ivanpah project creates electricity using fields of heliostat mirrors reflecting onto so-called power towers and creating steam from the water inside.