Citywire, James Phillipps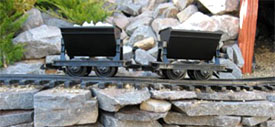 Goldman Sachs poured cold water on the increasingly hot rare earth element (REE) sector, warning supply's growing faster than demand but miners and many investors remain bullish.
REEs have grown ever more prominent on investors' radars in recent years and, though the names of the 17 REEs like yttrium, europium and dysprosium remain unfamiliar, the usage of these crucial elements in wind turbines, catalytic convertors and other technologies has struck a chord.
In Hong Kong, rare earth trading burst through the $100,000/ton mark for the first time in March and prices have increased tenfold since 2009. But last month, Goldman warned that prices are nearing their peak and will likely fall in the coming years with increased production resulting in a supply surplus in two years.
Malcolm Southwood, an analyst at the investment bank, expects the supply deficit to peak at 18,374 funds this year, comprising 13% of demand, before slipping into a surplus of 3.2% in 2013, with supply continuing to outstrip demand for the following three years.
"We envisage a closely balanced market in 2013 and modest surpluses thereafter, at least for some of the more abundant light rare earths, with some price softening in the 2013/2015 period," he said.
Indeed, he believes prices could halve over the next few years, as more mines move into production.
Goldmans' negative note saw share prices across the sector fall.
The Chinese Ministry of Land and Resource's decision to increase 2011 REE production only 5% and not grant any new mining licenses.
Gold Stock Trades Editor Jeb Handwerger believes that Goldman missed the point somewhat in its analysis of the sector. "Southwood omits many important considerations, such as differentiating between heavy and light rare earths," he said, pointing out that there is no major HREE separation facility outside of China.