Associated Press, Frank Bajak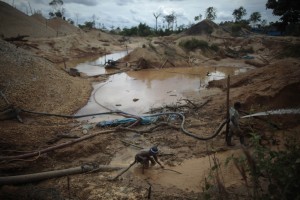 A gold rush that accelerated with the onset of the global recession is compounding the woes of the Amazon basin, laying waste to Peruvian rain forest and spilling tons of toxic mercury into the air and water.
With gold's price soaring globally as the metal became a hedge against financial uncertainty, the army of small-scale miners in the state of Madre de Dios has swelled to 40,000. The result: Diesel exhaust sullies the air, and trees are toppled to get at the sandy, gold-flecked earth. The scars inflicted on the land are visible on satellite photos.
The work is dangerous and produces a fifth of Peru's overall annual yield of roughly 175 metric tons of gold that make this country the world's No. 5 producer. The mining also is almost entirely illegal.
Government controls are mostly futile.
Neighboring Colombia and Ecuador have mounted crackdowns in the past year—Ecuador's military last month dynamited 67 pieces of heavy equipment—but when authorities depart, the diggers troop back and work resumes. In Madre de Dios, the informal production is unrecorded, untaxed and carried out on public lands where claims are awarded by regional officials, many of them grown rich in the process.
In February, the Peruvian navy dynamited 13 dredges which, working in violation of a government ban, were choking the Madre de Dios river with silt, killing plants and destroying habitats. Protesting laborers blockaded Madre de Dios' only highway, and at least three people were shot and killed by police sent from the national capital, Lima.
Rather than try to evict the thousands of protesting informal miners, the government decided to work to "formalize" their operations, which have denuded well over 70 square miles of jungle in Madre de Dios.