Business Insider, Tanuj Khosla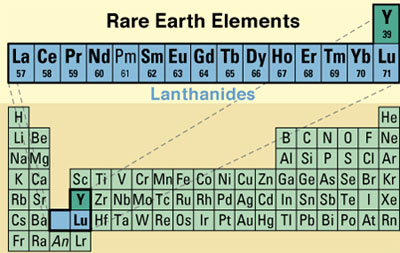 Not many people in the world, especially in the West, realize the crisis confronting all countries with the exception of China due to rare earth elements (REEs). Despite their name, REEs are relatively abundant in the earth's crust.
However, due to their geochemical properties, they're not typically found or concentrated in economically exploitable forms.
In March, China announced it would cap its total 2011 rare earth oxide output at 93,800 tons, up 5% from 2010 and that it would not approve any new REE prospecting or production licenses until June 2012. These announcements followed China's export-quota slashing of the 17 REEs and raised tariffs on exports, which had caused REE prices to breach the $100K/ton mark for the first time in February, up almost ninefold from 2010.
China's customs office changed its method of presenting REE exports in its headline data this year, boosting the reported volume by including products made from rare earth metals in the total. Personally, I see this as nothing but an attempt to mask and divert attention from the decrease in export volumes of REEs that's causing China's trading partners to see red.
Canada, Australia, South Africa and Greenland
The U.S. Government Accountability Office (GAO) estimates that it could take up to 15 years for the West to catch up with China and develop alternative supplies. Not many people know that the U.S.' main battle tank—the M1A2 Abrams—uses REEs in its navigation system. Even missiles that have targeted Taliban terrorists from drones above Afghanistan battlefields need a chemical that's produced only in China.
So how does the world find itself being held hostage by China?
China was smart enough to foresee the importance rare earth metals would assume both in civilian and military life as early as the 1960s.