Alaska Dispatch, Patti Epler
If Alaska is going to become a major player in the rare earth minerals industry, the federal government needs to rethink its decision to keep millions of acres of potentially mineral-rich lands off limits to mining.
That's one message Alaska Department of Natural Resources Commissioner Dan Sullivan delivered to a U.S. House subcommittee last week in testimony on a couple pieces of legislation aimed at finding and developing rare earth elements (REEs) that are critical to defense systems, high-tech applications and consumer products, among other things.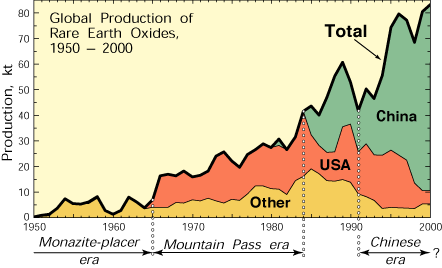 Roughly 97% of the minerals come from China, which is starting to crank down on production, driving up prices and causing great concern that the U.S. will find itself in short supply of these vital metals.
Alaska already has one active prospect,
Ucore Rare Metals Inc.'s (TSX.V:UCU; OTCQX:UURAF)
Bokan Mountain near Ketchikan, and the company announced Monday it had staked claim to thousands more acres in Interior Alaska that hold rare earth potential.
In addition to touting Gov. Sean Parnell's efforts to make Alaska a world-class prospect for REEs, Sullivan described the state's current inventory of coal, copper, lead, gold, zinc and silver, along with its potential for as-yet undiscovered rare earths. But, he pointed out, most of the deposits likely lie beneath federal and state land. Someone needs to figure out where they are and how to get at them, he said, and the feds could be key to that effort.
Here's just a part of his testimony. Read the entire presentation
here
.