RIA Novosti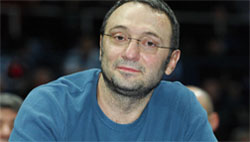 Nafta Moskva, the investment firm of Russian billionaire Suleiman Kerimov, is close to buying a 50% (plus one share) in Belaruskali potash maker for $15 billion to create the world's top potash producer.
Kerimov and Belarus' President Alexander Lukashenko, whose country is in the midst of a financial turmoil, met on Wednesday and agreed on terms of a deal to buy the stake from the government, according to
Vedomosti Business Daily
, of which Kerimov is the largest owner.
Lukashenko's spokesman and Nafta Moskva declined to comment.
Uralkali will soon complete a $24 billion merger with its rival Silvinit and if the Belaruskali purchase is successful, the three firms will create the world's largest potash maker with output twice that of the current market leader Canada's Potash Corp.
Troika Dialog Analyst Yevgeny Gavrilenkov said the deal had a chance of succeeding thanks to the economic crisis in Belarus. Foreign demand for Belarus' potash output began falling in 2009. For many years, the economy survived helped by low tariffs for Russian oil supplies but in 2010 Russia introduced a 100% tariff on the bulk of oil and oil product supplies, helping to widen Minsk's January-April trade deficit to 20%.
Belarus has applied for a bailout totaling $14.5 billion—a $6.5B loan from Russia and the EurAsEC, a post-Soviet economic bloc led by Russia, which has approved a $3B credit. The country also intends to raise up to $8B from the International Monetary Fund.