AHN
In what could improve relations between them, Russia has agreed to divide its Barents Sea's shares with Norway in a deal signed in Oslo on Tuesday.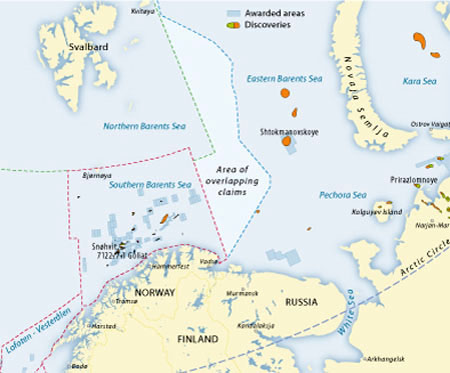 Both nations have been at odds over how to divide the 68,000-square-mile region that is rich in oil and gas. The deal will allow companies of both the countries to explore for these reserves in the region.

Russia's Gazprom and Norway's Statoil are already working on the Shtokman field. Global warming made this region relatively more accessible than before, prompting analysts to hope that new and shorter shipping routes between Russia and Norway and Asia could open due to the melting ice.

The parliaments of the two nations approved the accord, which is likely to be implemented on July 7. The deal, which is ratified in presence of Russian Foreign Minister Sergey Lavrov and his Norwegian counterpart Jona Gahr Stoere, will divide the disputed region into two equal parts and allow significant exploration for the first time.

James Nixey, Manager of the Russia and Eurasia Program from Chatham House, on his visit to Norway, said that the potential economic benefits are enormous.

"The significance of the deal is that it is widely recognized that the Arctic is a scene of future commerce and possibly future conflict," he added.