Forbes, William Pentland
Say what you will about the costs and benefits of policies promoting clean energy in 'the long run,' the evidence suggests that those policies are putting large numbers of people to work in the United States.
Green jobs are the sweet spot in an otherwise bitter economy, according to a new ranking of the of fastest hiring industries by IBIS World, a market-research firm based in Los Angeles.
"Each industry on the list fell into one or more of five sectors: environmental preservation, construction, automotive, real estate and insurance," said Justin Molavi, IBISWorld industry analyst.
Green jobs are estimated to grow by and 6.3% annually over the next five years, expanding by nearly 20% by 2016, according to estimates by IBISWorld.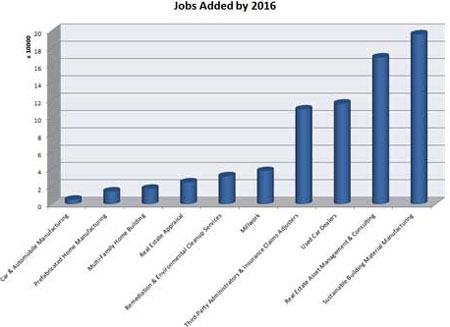 IBISWorld indicates that the surge of new government regulations will galvanize green jobs in the fields of environmental preservation, sustainable building material manufacturing and remediation and environmental cleanup services industries.