Ballarat Courier, Tom McIlroy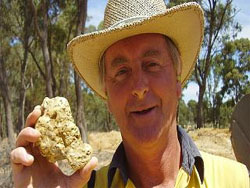 A gold nugget found near Ballarat in 1987 is at the center of controversy in the U.S., with an American man claiming he made the valuable find. Prospector Murray Cox says he is 100% sure the so-called "Washington Nugget," sold recently for $460K at a California auction, is in fact the one he and friend Reg Wilson found in Rokewood.
Known as the "Orange Roughie," theirs was a local sensation named for its fish-like shape.
The recent nugget dispute started when James Grill reported finding the 98 oz. nugget on his California property. Grill later used the find to create publicity for a proposed onsite commercial mine, and signed an affidavit stating its authenticity.
Media reports suggested Grill's been lobbying land authorities to have road access added to increase the site's value.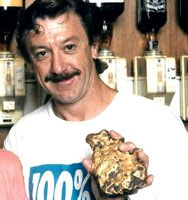 The March 16 sale of the nugget at a Sacramento auction brought it to Cox's attention, and he contacted News10 Reporter George Warren.
"I called them up because I knew people were being defrauded in the sale. It's excellent that it's been exposed, and even the auctioneer believes us now after he tested the gold and examined the photos," Cox said.
Warren tracked down Grill, but the businessman remains silent on the nugget.
The Orange Roughie nugget was sold to a gold dealer for $50,000 over 10 years ago, but the soaring gold market has increased its worth.
With renewed media interest in the controversy, Cox said he was unsure what would happen.
"We didn't set out to make any money out of it, and now it is taking up so much of our time," he said, "I would like the thing resolved." Cox wouldn't comment on the outcome of the sale.
The auctioneer confirmed to media that he now believes the nugget was not found locally.