For several months, I have alerted readers to the potential supply crisis of critical rare earths (REMX), which are used in our most vital defense technologies (ITA) and high-tech industries (QQQQ). The recent volatility in the equity markets have caused many investors to flee rare earth element (REE) mining stocks in search of safe havens in gold (GLD) and long-term Treasuries (TLT). This trend should be transitory in nature. We may see a strong rebound in many of these rare earth stocks once the uncertainty regarding the end of QE2 winds down.
The latest Chinese data indicates that rare earth exports are continuing to drop by more than 50% compared to last year's output. In April, China exported only 1,819 tons of rare earths—a shortfall of 53% from the previous year.
High-tech manufacturers outside of China must look elsewhere to satisfy their rare earth needs. Rare earth prices are soaring, but the REE mining stocks are not reflecting the elevated prices yet. This phenomenon will not last long, as institutions will begin catching on to the divergence between rare earth oxide (REO) prices and undervalued REE miners. Prices are soaring, rising almost 10 times in the past year, forcing manufacturers in Japan (EWJ), South Korea (EWY), United States (DIA) and Europe to search for future supply for their survival. This should be a bonanza for REE developers down the road, once manufacturers dip their toes into the water and acquire some of these vital assets. When that happens, we may see a consolidation domino effect. It's within the realm of possibility that cash-rich manufacturers will be compelled to enter offtake agreements and alliances with global supply sources and potential miners.
It's time for the affected industrialized nations to do their own heavy lifting in providing these vital elements so necessary for the very survival of their manufacturing bases. We're talking an emergency process that will take time to develop from mining to manufacturing. Advanced nations must think of urgent measures like developmental fast-tracking, financing and legislative expediting to bring these projects to fruition.
Noises are being made about taking China (FXI) to court, namely through the World Trade Organization. Many question whether resorting to such complicated and lengthy legal procedures can be successful. Time is truly of the essence. Whether the proposed case has merit or not, modern industrialized nations must seize the high ground and move rare earth mining forward.
I have highlighted some heavy rare earth element (HREE) projects suitable for immediate development in North America and Europe. Lynas Corp. (ASX:LYC) and Molycorp Inc. (NYSE:MCP) together are not capable of filling the REE supply deficit. Additional projects must be developed and brought into production.
Development of the rare earth initiative is long past due. The Department of Defense requires it, and the high-tech industry demands it. The West has the expertise and the capability of recapturing the base that was once ours but was co-opted by China.
Lynas appears to be reaching support at its nine-month trendline. This is an area in which we have seen major moves higher into new high territory. Lynas has the best odds of being the first miner to the market outside China. Over the past nine months, Lynas has bounced off support and made breakout moves. It is experiencing higher highs and higher lows, which are characteristic of a healthy trend. Lynas could make a move into new record-high territory.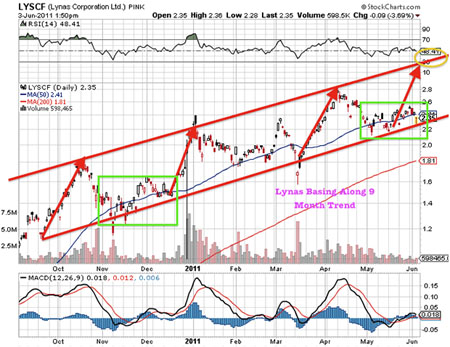 Jeb Handwerger
Gold Stock Trades

Disclosure: Long Lynas