Business Insider, Joe Weisenthal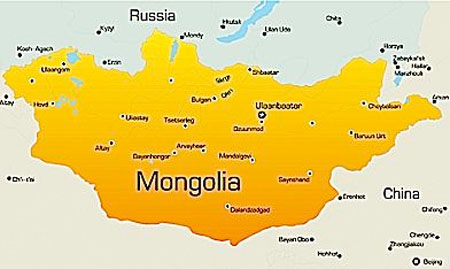 If you're a true believer in the Chinese growth story, and the voracious demand for commodities that will represent in the coming years, you can't do any better than Mongolia.
Christopher Wood, in his latest
GREED & Fear
report writes:
A few meetings in Ulaanbaatar made it clear that the fundamental issue for this landlocked country is whether it will be able to develop the infrastructure, notably transport linkages, to take full advantage of its massive resource wealth. If it does, Mongolia will be to industrial commodities what Saudi Arabia has been for oil—assuming, of course, that the Chinese macro story remains on track.

. . .For now the ramping-up of mining developments remains on track. The IMF now expects nominal GDP to real reach 16.6 trillion tons in 2013, twice the 2010 level of 8.3 trillion tons coal exports are expected to reach 27.6 Mt. in 2011, up from 16.6 Mt. in 2010 with production of 41.6 Mt. expected in 2013. If coal is for now making the running, copper will take over in 2013 with the then-anticipated commencement of production in 2013 of the Oyu Tolgoi (OT) field. Mongolia also is rich in gold, oil and assorted rare earth plays. But before all that kicks in the Mongolian story will have to navigate the inevitable noise of a general election due to be held in June 2012. The present government is an uneasy coalition of the two main parties. They are the Mongolian People's Party (MPP), the descendant of the old Communist Party, and the Democratic Party, set up in 1990 with the collapse of the Soviet Union.