Everyone knows people make mistakes when rushed to do something or if they are scared of something bad happening. We also know fear and greed is what moves the market each month, week, day and tick. . .So when the majority of investors are selling their shares at the same time you must recognize the psychology behind it and prepare for a low risk trading opportunity in the days that follow.
Stepping back and looking at the general vibe in the financial arena we hear about Quantitative Easing II coming to an end which should help the dollar gain strength again. A rising dollar means lower stock and commodity prices. Also keep in mind the United States is in so much trouble they will always have quantitative easing even if they are not calling it QE, that's my opinion anyways. . .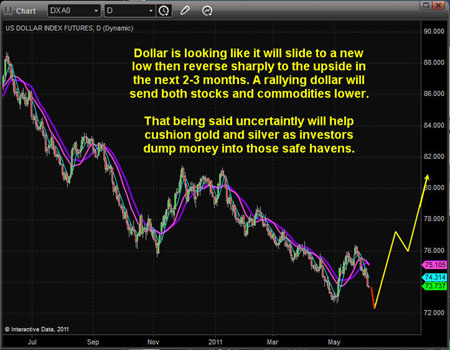 In addition, everyone was talking about the saying "sell in May and go away." Take a look at the chart of the SP500. The first session in May was the highest point and the SP500 has only gone down since then. The chart below shows my fear indicator and with the masses all selling in the month of May I have to think it's getting ready to bottom and start another 5-6% rally from down here. Keep in mind I am more neutral on the overall market for the longer term. In the next month or two I figure we see higher prices from here but come August we could see the dollar bottom and stocks sell off in a more significant manner.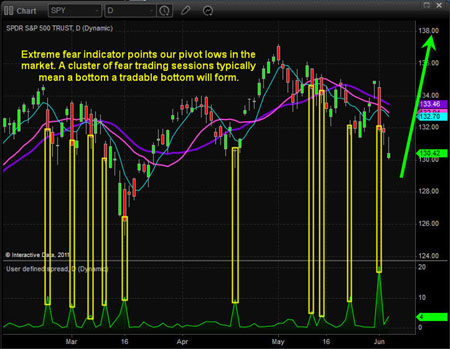 Last but not least, gold and silver. . .

Looking back in time and reviewing inter-market relationships with gold and silver I feel more and more investors are becoming bearish and moving their money into safe havens like gold and silver. Recently we saw a sharp pullback in both gold and silver. The price and volume action that took place was a clear sign of distribution selling meaning big money players taking money out of those investments. I see this pattern happen in stocks, indexes and commodities all the time and it generally warrants caution!

My trading buddy JW Jones over at OptionsTradingSignals.com has some very exciting ways to profit from these choppy market conditions with limited risk. If you are into options then check it out.

Typically we will see a few more new highs being reached which are quickly followed with strong selling. What happens is that the big money players allow the price to make a new high and that hits the headline news, CNBC, BNN etc. . .drawing in new buyers and a surge of volume for the big money guys to sell into and exit their positions at the top. It also helps cover up their large volume selling.

Below is what I am thinking will take place in gold this summer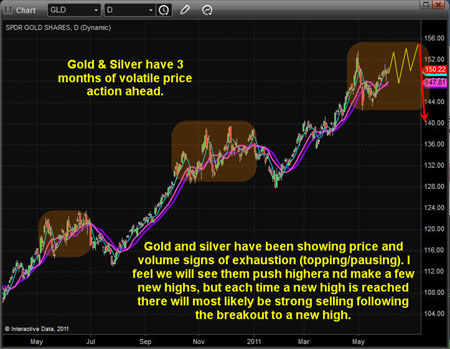 Weekend Trend Conclusion:

In short, I feel the dollar will continue to slide lower, both stocks and commodities should have some strength over the next 1-2 months but after that all bets are off and it will be time to re-evaluate things.

The next week in the market will most likely make or break this outlook as the overall market is trading at a tipping point. Let's see how this week pans out then take another look at the charts.

Get my trading reports free each week here.

Chris Vermeulen