Mail Online
There's gold in them thar hills, but pretty soon you won't be allowed to touch it.
In California, the state built on gold, the time is up for prospectors who are about to see their way of life declared illegal.
Just 162 years after history's biggest gold rush, diggers—or dredgers as they now are—are losing a long-running battle with environmentalists.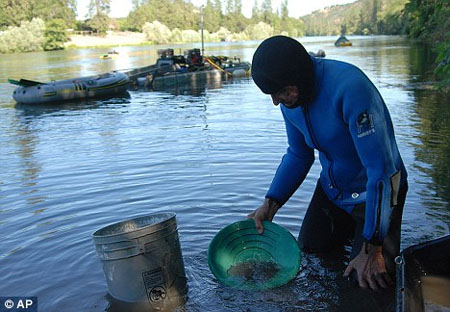 Sucking it up: Suction dredging, the modern day way of prospecting, is accused of being a danger to the environment.
The reason for this mammoth fight is. . .salmon.

At the center of the battle is suction dredging, today's mechanized version of gold panning.

Up to 4,000 people in California use suction dredging to extract gold.

It involves motorized rigs which act like giant vacuum cleaners, sucking up mud and gravel from the bottom of a watercourse and then using gravity to sort tiny quantities of gold from the rocks and dirt.

Environmentalists say the technique disturbs riverbeds where fish such as pacific salmon lay their eggs.

The salmon population has fallen steeply in the Golden State.

The environmentalists also say the dredging releases poisonous mercury into the water.

They persuaded California Governor Arnold Schwarzenegger to agree to a two-year moratorium on suction dredging in 2009 while scientists compile an impact report.

The 800-page report has been finished at a cost of $1.5million.

It recommends that the dredging can carry on, but under a strict set of conditions dictating the size of the machines and when they can be used.

It says that dredging should be banned in some ecologically important rivers and streams.

The report's findings are due to come into effect in six months.