Mineweb, Lawrence Williams
With sales of no less than 3.65 Moz. of new American Eagle silver coins in May, silver coin sales by the U.S. Mint are reported to be at their highest ever from U.S. Mint data going back to 1986. Indeed May sales were even 30% higher than April's 2.819 Moz., which in itself was the best ever April on record.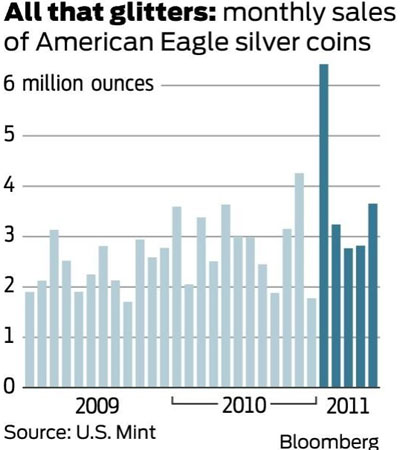 This brings the total sale of American Eagle silver coins to 18.9 Moz. so far this year. Last year's sales over the same period amounted to 15.2 Moz..

In the light of what it refers to as unprecedented high demand, The U.S. Mint has also announced that effective this week it will be adding production from its San Francisco facility to provide manufacturing flexibility across the bullion and numismatic product lines to meet customer needs.

The Mint further notes that it conducted American Eagle Silver Bullion Coin trial strikes at San Francisco in March and has the capacity to mint up to several hundred thousand coins per week at the facility. Previously all the American Eagle silver coins had been minted at its West Point plant.

The latest sales figures put the Mint well on track to beat its 2010 sales year output which was a record 34.663 Moz. despite having to impose some rationing die to the high demand.

That's how many 1-ounce American Eagle silver coins were sold last month by the U.S. Mint. Silver prices almost doubled between January and April, and the mint said last week that its San Francisco facility will start producing American Eagle silver coins to meet "unprecedented high levels" of demand.

It now remains to be seen whether the sharp recent fall in the silver price will have been affecting demandóJune figures will be awaited with interest.