Metro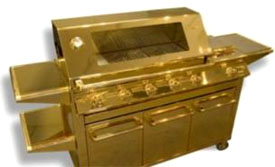 The most expensive BBQ in world is 24-carat gold plated and stressful to clean. With forecasters predicting a heat wave is set to hit the UK this weekend, more than a few people will be giving their BBQ a quick spring clean. But none of the grills are likely to be as extravagant as one produced by BeefEater Barbecues, which is plated in 24-carat gold and will set you back £100,000.
Everything but the cooking plates on the hand built BBQ is covered in the precious metal, making users feel like they have a Midas touch.
Features of the specially adapted Signature Series 6 Burner SL400 include a wok burner, roasting hood and warming rack, as well as a less-than-subtle gold glow.
Summing up the potential customers for its gold creation, BeefEater Barbecues said the grill was meant for people who "want to make a statement with their barbecue and have the money to burn."
Upon being awarded the accolade for the world's most expensive BBQ, Alan Chater, BeefEater European sales manager, said, "It was purely made to see what we could do in terms of opulence, price and features."
The weather in the UK this weekend is set to hit 30 degrees Celsius, making it hotter than Casablanca and Morocco, and providing ideal conditions to light up the BBQ—even if it isn't made from 24-carat gold.