GenevaLunch, Ellen Wallace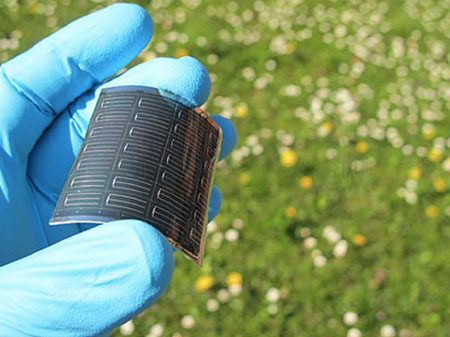 A "major step forward" in the ability to produce cheap and efficient solar energy cells has been made by a team at Empa (Swiss Materials Science & Technology Academy), which has set a new world record of 18.7 percent for energy conversion efficiency of flexible solar cells made of copper indium gallium (di)selenide, also known as CIGS.

Researchers are racing to develop a low-cost solar cell, which is both highly efficient and easy to manufacture with high throughput (execution efficiency), which would make it suitable for large-scale use.

Ayodhya Tiwari, who is leading the Empa team, says the new record value "nearly closes the 'efficiency gap' to solar cells based on polycrystalline silicon (Si) wafers or CIGS thin film cells on glass". Tiwari argues that "flexible and lightweight CIGS solar cells with efficiencies comparable to the best-in-class will have excellent potential to bring about a paradigm shift and to enable low-cost solar electricity in the near future."

His team achieved the previous world record for energy conversion efficiency of the cells, 17.6 percent, in June 2010. The measurements have been independently certified by the Fraunhofer Institute for Solar Energy Systems in Freiburg, Germany.

The cells offer cost benefits, starting with the possibility of using them in lower-cost roll-to-roll manufacturing processes for making electronic devices. The lightweight and flexible solar units could also reduce transportation and installation costs.

Empa, in a statement, notes that "thin film photovoltaic technology based on glass substrates has gained sufficient maturity towards industrial production; flexible CIGS technology is, however, still an emerging field. The recent improvements in efficiency in research labs and pilot plants—among others by Tiwari's group, first at ETH Zurich and since a couple of years now at Empa—are contributing to performance improvements and to overcoming manufacturability barriers."