New York Times, William Yardly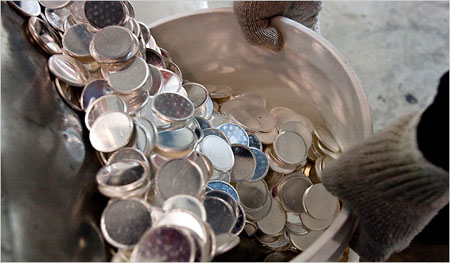 Rounds of silver being produced at the Old Glory Mint in Utah.
Most gold and silver coins collectors amass the metals for investment purposes, not to buy Slurpees at 7-Eleven.
"You'd be a fool," Tom Jurkowsky, a spokesman for the Mint, said of the Slurpee idea, "but you could do it."
Now, however, Utah has passed a law intended to encourage residents to use gold or silver coins made by the Mint as cash, but with their value based on the weight of the precious metals in them, not the face value—if, that is, they can find a merchant willing to accept the coins on that basis.
The legislation, called the Legal Tender Act of 2011, was inspired in part by Tea Party supporters, some of whom believe that the dollar should be backed by gold or silver and that Obama administration policies could cause a currency collapse. The law is the first of its kind in the United States. Several other states, including Minnesota, Idaho and Georgia, have considered similar laws.
"This is an incremental step in the right direction," said Lowell Nelson, the interim coordinator for the Campaign for Liberty in Utah, a libertarian group rooted in Ron Paul's presidential campaign. ". . .we here in Utah ought to be able to establish a monetary system that would survive a crash if and when that happens."
Utah has a strong conservative streak, but there are other reasons why it was first to pass such a law.
For many of its supporters, the new law represents an extension of the notion of preparedness nurtured by Utah's powerful founding institution, the Church of Jesus Christ of Latter-day Saints. "It's kind of written into our theology that we're supposed to be prepared for any eventuality," said Mr. Nelson, who was involved in early meetings with state lawmakers about the law.