Forbes, Tom Konrad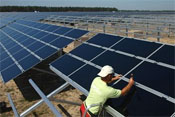 Solar installation is a low-margin business with low barriers to entry, but consolidation may bring competitive advantages in some sectors of the market. There are a handful of other publicly traded pure-play solar installer/developers, as well as vertically integrated solar manufacturers that have been developing projects with their own panels, and solar developer-operators.
The Shape of the Solar Installation Industry
I wanted to decide if the roll-up strategy made sense in the solar developer space. To do that, I talked to two sources actively involved in the space.
Together, they paint a mixed picture of the industry for prospective developers. At the small, residential scale, there are practically no barriers to entry. There is a wealth of training material available, both in person and online, which enables even a one-man contractor to become certified to install solar. At the larger, commercial scale, the main barrier to entry is capital, not expertise. There is a national trend towards the financiers owning the solar project, and consultants like Empower can manage the project for them, and bring together all the necessary expertise to develop a project from the initial site assessment to final commissioning.
The installer model looks a lot like a traditional contractor model. Gross margins are thin, from 15 to 30%, with residential systems typically receiving larger margins than commercial. Both see space in the current climate for a wide range of business models, driven by the immaturity of the industry and a wide diversity and frequent complexity of local codes and utility incentive programs that contractors must negotiate.
There are also advantages to scale. Large solar developers have the buying power to negotiate better prices on solar panels—a significant advantage in a thin-margin business. And some see a shift toward commercial- and utility-scale projects.