Clean Technica, Zachary Shahan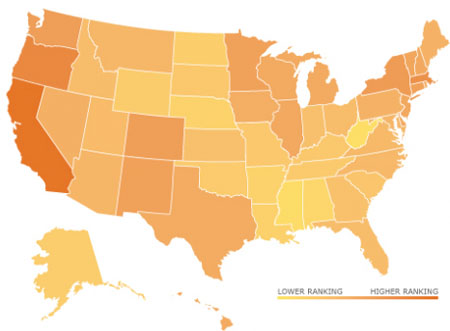 Any Top-10 list is going to be a bit ambiguous, unless you're ranking something that is scored and ranked very simply, like sports teams. Ranking states or countries on cleantech matters, especially cleantech or clean energy as a whole, is a little more difficult. So, I steer away from making such lists. However, if someone else makes one, it's a fun thing to cover.

Clean Edge recently published its 2nd annual U.S. Clean Energy Leadership Index, which includes critical data and analysis on the nation's cleantech and clean energy landscape. Included in the index is a ranking of the states according to their clean energy leadership. Can you guess the top 10?

Clean Edge uses 70 indicators related to technology, policy and capital to come up with its ranking—pretty comprehensive. Key market indicators tracked by Clean Edge include total electricity produced by clean energy sources, hybrid and electric vehicles on the road, clean energy venture and patent activity and policy regulations and incentives.

According to this year's findings, the top-10 states are as follows:
California
Oregon
Massachusetts
New York
Colorado
Washington
New Mexico
Minnesota
Connecticut
Vermont
Curious about the bottom-10? Probably not as much, but it's interesting and potentially useful, as well. Here they are:
Oklahoma
Wyoming
Alaska
North Dakota
Louisiana
Nebraska
Arkansas
Alabama
Mississippi
West Virginia
Sorry to my friends in West Virginia but, you know, that's the story.