Financial Times, Leslie Hook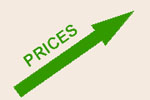 A gravity-defying leap in the price of Chinese rare earth elements (REEs) has triggered fears that the cost of components used in various goods from mobile phones to hybrid cars could soar.
The threefold to fivefold jump in prices since January comes after China, the world's biggest REE producer, clamped down on domestic output.
The implications could be far reaching. Although annual consumption of the metals is small relative to that of other commodities, REEs are found in everything from fluorescent lights to wind turbines. They are very difficult, if not impossible, to substitute.
Industrial buyers are in shock after witnessing the price of REEs, such as cerium oxide jumping 475% in just five months, amid falling supplies.
"I've never seen anything like it," says one U.S.-based purchaser of rare earths. "People are trying to wriggle out of using rare earths in any way they can, whether by developing new products or finding substitutes."
As China further cuts export quotas—this year's overseas sales license is 4.5% lower on an annualized basis than last and more than 40% below the 2009 quota—global demand for the metals has been growing.
Beijing has also clamped down on smuggling, which at one point accounted for about one-fifth of total sales, further squeezing the global market.
Statistics collected in Hong Kong show exports of REEs have halved over the past year to reach just 1,819 tons last month. At the same time, the value of exports has soared to more than $121,000/ton—a tenfold increase from a year ago.
Traders say that Chinese customs officials are policing exports and require that sales contracts match an internal price list, known by some as the "secret price." They say REE sales are quicker, but that offers are withdrawn more often because of rapid price moves.