The Wall Street Journal, Francesca Freeman
Investors are closer to being able to use gold as a trading security after a European parliamentary committee approved a proposal to allow clearinghouses to accept gold as collateral, the World Gold Council said.
The European Parliament's Committee on Economic and Monetary Affairs Tuesday agreed unanimously to allow clearinghouses to accept gold. The proposal, under the under the European Market Infrastructure Regulation, will be passed to the European Parliament and the Council of the European Union for another round of voting in July.
The credit quality of traditional collateral assets, such as European government bonds have continued to see a deterioration.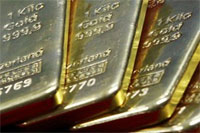 Gold's strong price gains in recent years have seen its appeal as collateral increase. Clearinghouses and other institutions have looked at introducing new sources of collateral since the 2008financial downturn highlighted inadequacies in counter-party risk management in the global OTC market. The G20 said it wanted to try to reduce financial market risks by putting more products into clearinghouses, increasing the demand for collateral as security against risks.
At the same time, many traditional collateral assets, such as European government bonds, have continued to see deterioration in credit quality as a result of the sovereign-debt crisis.
In October 2009, CME Group Inc. said it would allow physical gold to be used as collateral for margin requirements, a move that was followed by rival Intercontinental Exchange Inc. in late 2010.
In February this year, JP Morgan Chase & Co. announced its decision to accept physical gold as collateral in some financial transactions.
"It is very significant that the European Parliament is putting its weight behind the argument that the unique characteristics of gold make it an ideal form of high quality liquid collateral," said Natalie Dempster, director of government affairs at the WGC.