The National, April Yee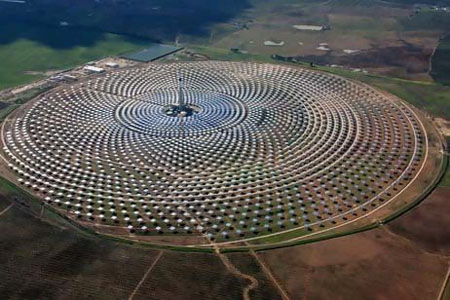 A Spanish solar plant built by an Abu Dhabi company is set to power homes even during the night. The final tests have been completed on a solar plant in Seville, Spain.

Thousands of mirrors concentrate the sun's energy on a single tower holding molten salt, which developers believe is so effective at retaining heat that it will be able to produce power 24 hours a day from March–October.

The tower is the first part of a €1 billion investment in Spanish power production, which includes two 50 MW solar parks being built. The Spanish Institute for Energy Diversification and Saving—the country's renewable energy agency—welcomed the development and said it hoped for further investment by Abu Dhabi in the country's renewables sector.

"We are expecting more than €60bn will be needed in order to develop the amount of renewable technologies we are looking for," said Isidoro Tapia Ramirez, the agency's general secretary. "Once they know the Spanish market and how the Spanish demands develop and how friendly we are to the development of the renewables sector, I'm sure they will find new projects to develop."

The three solar plants in Spain were planned during a period when solar-energy producers benefited from a generous government subsidy. Although in December the Spanish government cut back the payments in light of the country's economic crisis, THE solar plants ARE still commercially viable. Solar towers are part of a family of solar technology that uses mirrors to concentrate the energy of the sun to heat a liquid such as water or oil. The molten salt used in the Spanish power tower can be heated to higher temperatures—as much as 400°C—and is believed to retain heat longer.