BBC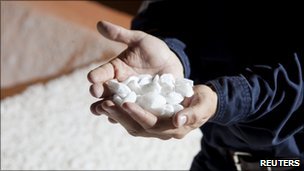 Landowners on the North York Moors are being urged to lease mineral rights to a company planning to develop one of the world's biggest potash mines.

Sirius Minerals wants to mine potash, a potassium compound used in fertilizers, between Scarborough and Whitby.

It said it had made "a fair proposal" of payment to farmers and was meeting them this week to discuss its plans.

However, one farmer said landowners were worried about the environmental impact of mining in a national park.

Robin Gray, who runs a 215-acre farm at Harwood Dale, said: "I think the majority of people are. . .concerned as to what is it going to be, where is it going to be, what is it going to look like and what are the impacts going to be environmentally."

"To divide and conquer and invite small groups of people to exclusive meetings is not in my opinion a very clever and very sound way to make a judgement for the future," countered Chris Fraser, Sirius Minerals chief executive.

The land earmarked for the project lies within the boundaries of North York Moors National Park, and planning permission would be required before any extraction could begin.

Sirius chief executive Chris Fraser said the company had so far secured mineral rights covering an area of about 620 sq km.

He said they were now "out there to sign up smaller landowners."

"It is the only place where potash exists in the UK and one of the few deposits of that scale and quality around the world," Mr. Fraser said.

He said that under UK laws, mineral deposits at any depth "from the surface to the Earth's core" were effectively owned by the landowner.