Oil & Gas Financial Journal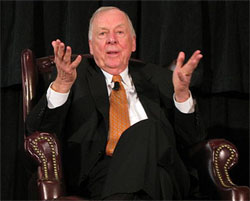 On May 24, legendary oilman T. Boone Pickens responded to President Obama's Federal Fleet Memorandum, which ordered that by Dec. 31, 2015, all new light-duty vehicles leased or purchased by agencies must be alternative-fueled vehicles:
"I applaud President Obama for the Federal Fleet Memorandum issued today, calling for the use of alternative-fuel vehicles in the federal fleet. This is the leadership we need on this critically important issue—we simply have to get America off OPEC oil. This is a great move and I hope the President's next step will be to lobby Congress to pass the Nat Gas Act (HR 1380), which will reduce our dependence on OPEC oil, improve our national security and help our economy grow."
HR 1380 encourages use of domestic natural gas to fuel heavy-duty vehicles, simultaneously improving our national security and strengthening our economy. The legislation currently has nearly 200 bipartisan cosponsors from across the country that includes Tea Party members from the Republican Study Committee; the Black Caucus; and, the Blue Dog Coalition. Additionally, President Obama has declared his support for using natural gas to wean America off OPEC oil and secure our energy future. The Pickens Plan to encourage more heavy-duty vehicles to run on domestic resources is included in the Nat Gas Act. The Act was introduced in the House of Representatives by Congressmen John Sullivan (R-OK), Dan Boren (D-OK), John Larson (D-CT) and Kevin Brady (R-TX).
Unveiled on July 8, 2008, by Pickens, the Pickens Plan is a detailed solution for ending America's dependence on foreign oil. That year, when oil prices reached $140/bbl, the U.S. was spending about $700B for foreign oil—equaling the greatest transfer of wealth in history—the figure has decreased some, but the U.S. is still dependent on foreign nations for ~70% of its oil.