UPI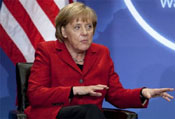 Germany threatens European energy security by pressing ahead with its plan to drop nuclear power, the director of the International Energy Agency, Nobuo Tanaka has said. Because Europe's energy market is increasingly connected, the German policy decision affects the entire continent, Tanaka said in an interview with the
Financial Times
Germany newspaper.
Berlin should come to a joint decision on nuclear power with its European partners, he said.
"Otherwise sustainability and supply security are sacrificed in the whole of Europe," said the head of the IEA, which advises 28 industrialized countries on energy security.
German Chancellor Angela Merkel in March, at the height of the Japanese nuclear crisis, ordered comprehensive stress tests for all 17 German reactors and decided to shut down the seven oldest, most of them built during the 1970s, for at least three months.
Merkel, who in the fall of 2010 decided to prolong the use of nuclear power in Germany, said her government would look for ways to drop the energy source "as soon as possible."
She won't unveil a timeframe for the nuclear phase out in Germany until next month but it's widely expected that some of the reactors may not be coming back online.
Tanaka said Germany's energy security will suffer if it decides to shut down reactors.
"The dependency on other resources," such as coal and gas, "will increase," he said. Dropping nuclear power, he warned, would also lead to higher power prices.
Four German grid operators warned Merkel that her decision to shut down reactors could lead to widespread blackouts in the winter, the Sueddeutsche Zeitung newspaper reported Monday. Days with little sun and low winds could lead to outages in Germany's industry-heavy southern states, grid operators warned.
"A safe supply to customers in these cases could be severely compromised," they said.