Associated Press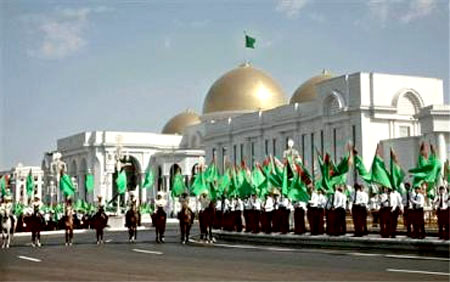 To the accompaniment of deafening traditional music and trailed by a crowd of hundreds, Turkmenistan's president inaugurated his lavish new palace in the heart of the Central Asian nation's gleaming capital Wednesday.
The $250 million complex built by French construction company Bouygues replaces the more squat golden-domed palace located a few blocks away.
The landmark appears to represent President Gurbanguly Berdymukhammedov's determination to expunge all signs of the personality cult dedicated to the country's previous leader, after whom the old presidential palace was named. It may also be a display of one-upmanship in Central Asia, where presidents have seemingly tried over the years to outdo one another in the grandness of their offices.
The new presidential palace is topped by three golden domes and, the president said, will be able to meet all the government's needs. But it is likely to draw criticism from government opponents—all of whom have been ruthlessly hounded out of the country—about waste and misspending while many Turkmens still endure poverty and hardship.
After the ribbon cutting, Berdymukhammedov walked into the vast entrance hall followed by a large crowd that included top government officials and diplomats.
The original presidential palace was named after the first post-independence leader, President Saparmurat Niyazov—a mercurial and often megalomaniacal character who officially went by the title of Turkmenbashi, or Father of the Turkmens.
Berdymukhammedov succeeded Niyazov, who died in December 2006.
As part of a concerted effort to dismantle Niyazov's personality cult, it's no longer mandatory for high school students to take an exam on the rambling spiritual guide written by Niyazov. While eschewing many of Niyazov's excesses, Berdymukhammedov remains deeply fond of the grandiose, overblown style that has come to distinguish the capital, Ashgabat.