Wallet Pop, Jorgen Wouters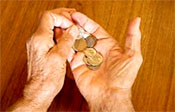 A con-artist couple that ran a bogus precious metals investment scheme is
being sued
by the FTC for swindling seniors out of tens of millions of dollars.
The FTC charged Harry and Andrea Tanner with running a telemarketing scheme that conned seniors into buying precious metals (PMs) on credit without disclosing the costs and risks involved.
The FTC said the Tanners and their company, American Precious Metals, of Deerfield Beach, Fla., fleeced elderly victims out of more than $37M. Pending trial, a federal judge shut down the Tanner's company, placed it in receivership and froze the defendant's assets.
According to the FTC's complaint, the Tanners targeted elderly consumers with a get-rich-quick scheme promising huge profits by investing in precious metals, such as silver, gold, platinum and palladium. APM's telemarketers used strong-arm sales tactics to convince consumers they were being offered low-risk investments that would quickly double or triple in value. Its sales pitches and marketing materials touted PMs as low-risk investments because bars, bullion and coins are tangible, physical assets that tend to rise in value during times of economic uncertainty.
The FTC also accused the defendants of regularly failing to inform customers that their investments were leveraged and, thus, they were agreeing to take out a loan and pay interest on up to 80% of the purchase prices, which were never made.
Consumers also weren't told their leveraged investments were subject to equity calls that could force them to pay even more to prevent their investments from being liquidated. Because these leveraged investments were opened with low equity levels and subject to hefty interest charges, the investments were exposed to equity calls even if prices remained stable.
The FTC complaint charged the Tanners and American Precious Metals with violating the FTC Act and the FTC's Telemarketing Sales Rule.