Biomass Power & Thermal, Lisa Gibson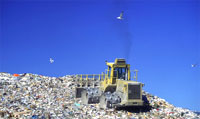 Maryland Governor Martin O'Malley said he intends to sign into law Senate Bill 690, allowing municipal solid waste to classify as a Tier-I renewable in the state and therefore receive renewable energy credits under its renewable portfolio standard. Under fire for the decision, O'Malley released a lengthy statement May 17 explaining his reasoning and the bill's benefits to Maryland. The state has an aggressive goal of 20% renewable energy by 2022 and will require a diverse fuel mix to accomplish.
"Maryland is not alone in this determination," he continued. "Over half of the states that have a renewable energy goal classify MSW as a renewable fuel. European countries that are many decades ahead of the U.S. in reducing their carbon footprint and reliance on fossil fuels make broad use of modern waste-to-energy facilities and employ comprehensive recycling efforts in order to land fill as little waste as possible."
Marylanders generate tons of waste every day and without waste-to-energy facilities, no value is derived from the waste and the state continues to rely on coal-fired power generation.
O'Malley addressed emissions from waste-to-energy facilities, explaining that they will be more environmentally friendly than the current land-filling and coal-burning strategy. Also, waste-to-energy facilities generally emit lower levels of sulfur and nitrogen oxides and particulate matter per megawatt-hour than coal when used to generate power. But the most troublesome pollutant, he said, is mercury.
"Mercury emissions are the most worrisome aspect of waste-to-energy facilities, but can be limited through vigorous regulation," O'Malley said. "To this end, I have instructed Maryland's Department of the Environment to strictly regulate the amount of mercury emanating from both existing and proposed waste-to-energy facilities in our state.