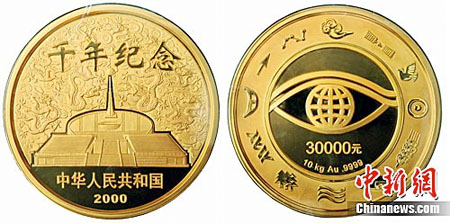 Xinhua
A 10-kilogram gold coin, the largest ever minted in China, has been auctioned for 7.70 million yuan ($1.18 million) at an auction in Beijing.
The large coin was auctioned off by China Guardian Auctions Co Ltd after 22 rounds of bidding on Saturday. Minted in 2000, the coin is the heaviest gold coin minted ever since the Chinese government started minting gold and silver coins in 1949, said Guo Xueguang, manager with the philatelic items and coin department in Guardian Auctions.
The coin is 99.99% gold, with a par value of 30,000 yuan. It combines both traditional and modern markings, making it highly valuable for collectors, he said.
Gold and silver coins have become more popular in recent years for their surging prices and ability to resist inflation. A 5-kilogram commemorative coin issued by China was auctioned for 10.30 million yuan in Japan last April, said Guo.