Forbes, William Pentland
Nearly 2,000 clean-energy patents were issued last year in the United States, an increase of 170% compared to the previous year, according to the Clean Energy Patent Growth Index released by Albany, NY-based law firm of Heslin Rothenberg Farley & Mesiti P.C.
The most recent update to the Index shows the sharpest year-to-year rise in clean-energy patents since Heslin began tracking clean-energy innovation trends in 2002.
"Clean energy patents hit a record high in 2010, up over 700 patents relative to 2009," said Victor Cardona, a partner at Heslin and a highly-regarded legal authority on intellectual property issues in clean technology. "General Motors claimed the 'Clean-Energy Patent Crown' for 2010, displacing Japanese rival Honda from the top spot."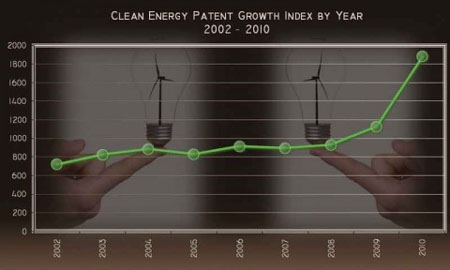 Heslin's index reflects a survey of filings with the U.S. Patent and Trademark Office in technologies including solar power, wind power, hybrid and electric vehicles (EV), fuel cells, hydropower, tidal and wave power, geothermal power, and biomass and biofuels.
Solar-power patents rose 134% while hybrid and EVs vehicles increased 60% over the previous year. The Index also showed that although fuel-cell technologies remained the hottest of the hot spots in cleantech IP development, solar technologies received more attention than wind power in terms of overall patenting activity in 2010.