Proactive Investors, Sergei Balashov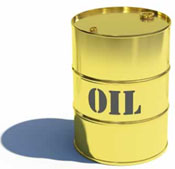 Oil prices pulled back today, giving away some of yesterday's gains after CME Group (NASDAQ:CME), which operates the New York Mercantile Exchange (NYMEX), decided to raise margins for positions on U.S. light, sweet crude contracts.
In addition to that, oil was pushed down by a surge in the U.S. dollar, which gained against the euro amid concerns over Europe's debt problems. Standard & Poor's has lowered Greece's sovereign rating yet again from BB- to B and indicated that it could drop further. Fears over the situation in Greece eased on reports that the debt-laden country could receive more financial aid from the European Union.
A stronger American currency makes the dollar-denominated crude more expensive for holders of other currencies, denting demand. The U.S. dollar softened later in the session, helping crude oil futures recoup some of their losses.
The prices were supported by the news that China's trade surplus increased to US$11.4 billion in April as exports soared 30%.
Oil prices declined sharply last week on perception that crude oil and other commodities were overbought, also getting hit by the assassination of Osama bin Laden by U.S. Navy SEALs. The
Financial Times
reported that the world's largest hedge funds lost as much as US$400M as a result of the fall in oil prices.
U.S. light, sweet crude for June delivery, which is currently the most actively traded contract on NYMEX stood at US$102.07.70/barrel, while July crude retreated to US$102.64/barrel.
June Brent crude surged to US$116.52/barrel on the ICE Exchange.