What was I thinking trying to forecast a normal "wave 4" correction in silver without the required insider information that the COMEX was going to raise margin/equity requirements four times in a week? My pullback silver low target of $40.10 was obliterated after two consecutive days of equity requirement increases early last week, knocking silver into the low 33's before it got off the mat and staggered around a bit. Gold followed right behind as margin calls and stop losses required over-zealous traders on the long end to liquidate everything they could find to avoid complete meltdown of their trading accounts.
That is all well and good, but now all of my subscribers want to know just one thing…what now? For starters, silver had completed an A B C rally pattern from around $18.50 in late August to $49.90 about eight Fibonacci months later. I had written about that coming rally late last August with silver at $18.73, so we were prepared for the opportunity. I even looked for long-term targets as high as $45. That rally was pure crowd behavior in motion, and when you reach the extremes of a "C Wave" in optimism, the next leg down (Which I call the "D wave") is extremely difficult to predict. I trade A-B-C patterns all the time, looking for that imminent "C wave breakout", and last August I forecasted a huge move in silver mostly because a very long B wave triangle had just about completed, and the powerful C wave rally was nigh.
Now that we ended that rally by touching the all time highs near $50 from 1980, it was clear we would have a corrective pattern, and the problem was trying to come up with a reasonable "Crowd Behavioral" bottom pivot forecast amidst the COMEX interfering. This D wave ended in catastrophe for those who were over exposed, or shall I say. . ."Greedy". You know what they say on Wall Street, Hogs get fat and pigs get slaughtered. Well, for those who want to dip their toe back in the water, here is the likely path going forward.
I expect silver to recover over several months and re-attack the $50 zone again.
Silver will get past $50 by year-end and probably reach $60 before the next strong correction.
With three years left in the gold and silver bull cycle from 2001, there's a very good chance silver will be well north of $100/oz. by 2014, but one week at a time.
I do not trade silver or gold futures and never have. . .I just forecast direction and price as best as I can for my subscribers. Probably one of the reasons I've been lucky and accurate for many years is I have no bias, as I am not forecasting my own book. . .just what I see. Near term, look for silver to try to rally back to about $38 to $41.50 ranges, with another pullback to follow.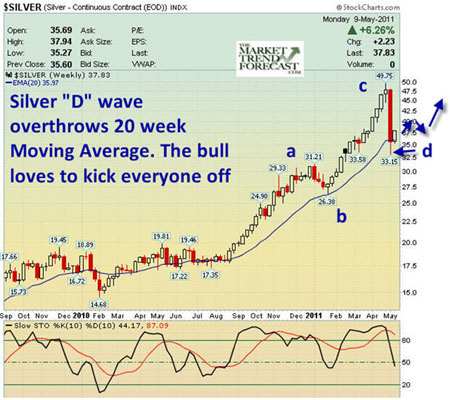 Gold should have bottomed at $1462 in what I call an "A wave" down, with the "B wave" currently bouncing to about $1520 if I'm right. Once this bounce is completed, look for a soft pullback to $1489 or so followed by a strong rally to re-test the $1577 highs. Gold should reach a minimal target of $1627 on this final 5th wave up from the January 1310 lows, with potential to spill higher than that.

Silver has tripped on itself for now, and gold will probably move a tad smoother over the near term, but look for silver to regain its sprinting abilities this summer-fall and retake the baton from gold and continue its outperformance. If you would like to have frequent updates during the week, lots of good charts, and avoid scratching your head while the action unfolds, take a look at www.MarketTrendForecast.com for a special coupon offer today, or sign up for our occasional free reports!

David Banister
Market Trend Forecast