The long awaited healthy pullback has come. However, do not forget that Federal Reserve Chairman Ben Bernanke will continue devaluing the dollar (UUP) by keeping interest rates at all-time lows and continue quantitative easing as we have not seen a major improvement in unemployment and housing. We are also entering an election year in which central banks do not want to rile the equity markets. Just because the S&P (SPY) has been soaring does not mean the economy is improving. Easy money policies will continue for an extended period of time to fight against current economic weakness. This is an environment in which gold (UGL) and silver (AGQ) will benefit. We are currently seeing a massive inflationary environment globally that has caused political unrest in North Africa and the Middle East, and rising costs in key emerging economies such as China and South Korea.
We must be prepared for these current short-term corrections in precious metals because it will provide additional buying opportunities in gold (GLD), silver (SLV) bullion and mining stocks (GDX). The market will try to make you be complacent when you should be fearful, and make you scared when you should be enthusiastic.
I have mentioned that silver was 70% above the 200-day moving average, surpassing overhead resistance, reaching record levels on the oscillators and surpassing my late January technical targets. Silver has moved much faster and higher than I originally projected. I initially thought the move would last through May, but the speculative buying and short covering has caused silver to reach my target a few weeks ahead of schedule. Whenever these conditions occur, caution is merited as the odds of a shakeout have significantly increased. A healthy correction is necessary to maintain the long-term steady uptrend and provide secondary buy points.
br>Major institutions raises cash and began selling into a rising market as the speculative fever reached a climax the last two weeks of April. When the consensus gets greedy, I get fearful. Since late January when my indicators turned bullish on precious metals and mining stocks, we have seen record investment demand in silver and gold bullion combined with short covering. Tremendous record volume in the silver market indicated a short-term buying hysteria. These frenzies in the precious metals markets are often followed by quick and violent corrections, which we are currently witnessing, to shake out the Johnny-Come-Lately traders who get overaggressive in these rising markets. Investors were building up very aggressive and speculative positions. The conditions in silver have been setting up for a painful pullback.
A healthy correction is currently necessary to sustain the long-term steady uptrend in hard assets. Most investors do not realize that precious metals are in a long-term secular uptrend but there will be volatility with ebbs and flows. Silver is an extremely turbulent market that exceeds technical targets and momentum oscillators regularly. Silver blows very hot and very cold exceeding to the upside and the downside.
Following is a chart I sent my readers April 22, 2011.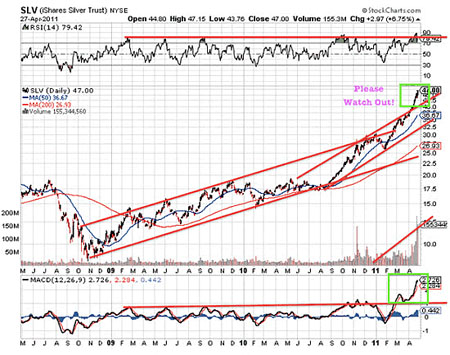 I needed to be careful about this move in silver in late April surpassing my late January target of $40 and the U.S. dollar bearish sentiment, which was reaching an extreme in late April. Silver exceeded upper trend channels and saw record volume, showing signs of a shakeout. I was very concerned that silver was overheating as the herd tried to force its way into this trade.

Whenever I have seen these parabolic moves, they have not ended well as the profit taking begins and the investors who have overleveraged themselves get margin calls. I am not surprised at all about this painful shakeout.

Precious metals investors may be repositioning from bullion into mining stocks. This consolidation may be the catalyst to help the miners catch up with the performance of gold and silver bullion. Mining stocks have not yet seen the speculative levels that bullion has seen. The general public is now realizing that inflation and precious metal prices will be high for some time to come as Bernanke has no plans of exiting, but are reluctant to enter bullion at these pricey levels. Miners, especially junior explorers (GDXJ) are providing a discount to bullion. Inflation will continue for years to come yet this correction, in the junior miners (GDXJ), indicates the public is still unaware of the basic fundamental and growth potential of this sector over the next decade, especially when gold and silver find support.

This has been no surprise to my readers. I have said that there is no exit plan from the Fed. There is a concerted effort to devalue the U.S. currency to pay back soaring debts. The U.S. is broke and it canít afford raising interest rates. Savers are getting swindled by leaders in Washington, which has used public taxpayer money to bail out corporations and banks. Americans are getting squeezed by soaring prices of basic goods, while their hard-earned savings are depreciating.

I have urged caution around initiating positions in gold or silver bullion as the trade was very crowded and at the end stages of its short-term move from late January through May. Remember, gold has a historic cycle to provide a sale every six months.

As gold and silver sell off, donít forget the long-term uptrend will stay intact. Will you be ready for the next turning point in precious metals as the herd sells out during the panic?

I believe junior mining stocks (GDXJ) will catch up. Some people are concerned that some of the mining stocks that haven't moved yet should be sold while they're reaching long-term support and basing. I donít believe so as they all provide leverage to falling currencies and rising demand from emerging economies. As these mining stocks sell off, I begin to look at the long-term fundamentals, which have not changed. Perceptions from the herd change but the fundamentals in gold miners (GDX) do not. One must take advantage of sell-offs in gold and silver miners; they are opportunities to get on board the secular bull market in precious metals. I believe it is the best way to protect oneís assets during these times of growing record deficits and currency devaluations.

To monitor potential buy points in precious metals and miners click here.

Jeb Handwerger
Editor
Gold Stock Trades