Economic Times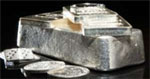 Platinum is drawing investment as a financial asset and palladium boasts an enviable market balance, but silver could top the precious pack this year as its latest fall offers a chance to buy, GFMS's Philip Klapwijk said. The managing director of the metals consultancy, which on Thursday released its 2010 Platinum and Palladium market survey, said that once the current price decline from last week's record above $49/oz. has petered out, silver has enough favor among investors to return to these levels.
"If we see silver drop, perhaps down close to $30, [it] would look a pretty decent buy because, through to the end of the year, you've got the possibility of 40%–50% price gains," Klapwijk said in an interview with Reuters.
"I'm not sure that silver would get above $50, but would we see it in the upper $40s again? Quite possibly. I don't see that scale of increase probably out there for gold and for platinum and probably not for palladium either," he said.
The silver price , which is still up about 22% so far this year at $38/oz., is set for its largest weekly decline in nearly 30 years, led by selling after a series of sharp rises in margin requirements to hold U.S. silver futures, as well as hefty outflows of metal from the world's largest ETFs.
GFMS expects platinum to show a seventh consecutive annual surplus in 2011 as jewelry demand softens and auto-sector consumption continues to depend on the struggling European market.
Palladium, on the other hand, is forecast to show a deficit in 2011, for a fifth year in a row, while demand is expected to show modest improvement, largely thanks to robust use of the metal in catalytic converters for the gasoline-intensive Chinese and U.S. markets.