The Wall Street Journal, David Fickling
Demand for rare earth elements (REEs) that's driven up prices more than tenfold since 2009 will likely be met by a supply surplus by 2013, as Western companies start up new mines to compete with the Chinese firms that now dominate the market, Goldman Sachs analysts predicted Thursday.
The forecast calls into question the sustainability of the current REE boom, as well as the shares of companies seeking to produce them.
Rare earth prices hovered between $5/kg. and $20/kilo from the early 1990s until 2010. But China's 40% cut in export quotas sent prices soaring. The basket price of REEs held in Lynas' Mount Weld deposit in western Australia—the largest non-Chinese mine, due to come online in the next few years—has jumped to an average of $162.66/kilo from just $10.32/kilo in 2009.
Goldman's view differs from that of miners. Lynas forecasts global REE demand will outstrip supply by 35,000 tons this year and next, and that annual supply shortfalls of ~20,000 tons are expected in 2013 and 2014. It predicted long-term prices in the $120–180/kg. range.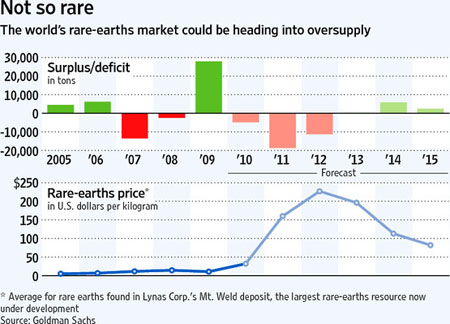 Lynas CEO Nicholas Curtis says China is on the verge of becoming a net REE importer.
"China will become a net importer because its consumption for its own domestic value-added industry is going to drive very high [demand] growth for these resources," he said.
Goldman Sachs Analyst Malcolm Southwood, however, said the price boom is nearing its peak. The supply deficit will peak at 18,734 tons this year—equivalent to 13.2% of a forecast 141,524 tons of demand—before the market slips into a slight surplus in 2013, he said. He noted that the surplus will rise to 5,860 tons or 3.2% of projected demand in the following year.