Reuters, Jan Harvey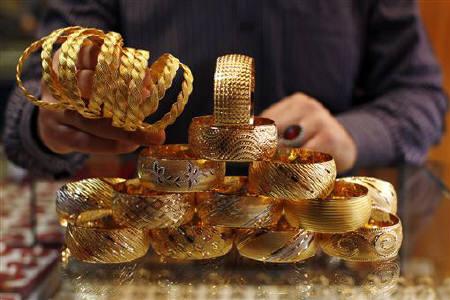 Gold prices slipped from record highs on Monday and silver posted its biggest one-day loss since December 2008 after news that al-Qaeda leader Osama bin Laden was killed in a U.S.-led operation in Pakistan.
Spot gold fell to nearly $1,540 an ounce after earlier hitting a fresh record high at $1,575.79. By 0913 GMT it had recovered to $1,553.00 an ounce against $1,563.65 late in New York on Friday.
Silver was bid at $45.12 an ounce against $47.80, having earlier fallen as low as $43.04.
Oil and gold fell as news of the death stripped out some of the risk premium that has been underpinning commodity prices, while the dollar rebounded from three-year lows, further pressuring gold, and stock markets climbed.
Silver tumbled 10%, its steepest fall since late 2008, hit by a recovery in the dollar, increased margins for futures trading and a technical overhang after a 170% rally over the last 12 months to a record high last week.
"News about Osama and the 13% margin increase—the second in a week—hit the market at the worst possible time," said Ole Hansen, senior manager at Saxo Bank. "Also, (there was) news Friday evening that professionals scaled back silver exposure by 26% as of last Tuesday."
"We are seeing volatility at an unprecedented level here and the fight between the bulls and bears has entered an interesting stage," he said, adding; "I like gold. Just a switch from silver to gold could lend support."
The CME Group Inc, parent of the Chicago Board of Trade, said on Thursday it would raise maintenance margins for COMEX 5000 Silver futures by 13.2% to $10,750 per contract from $9,500 effective Friday, April 29.