Bloomberg, Chanyaporn Chanjaroen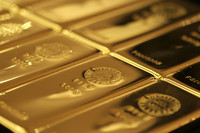 Commodities beat stocks, bonds and the dollar for a fifth straight month, the longest stretch in at least 14 years, as demand for raw materials increases with expanding economies and Federal Reserve promises to boost growth.
The Standard & Poor's GSCI Total Return Index of 24 commodities climbed 4.4% in April, after reaching the highest level since October 2008. The MSCI All-Country World Index of equities advanced 3.9%, the most since December, and the U.S. Dollar Index, a gauge against six counterparts, fell 3.9%, touching a 33-month low. Bonds of all types returned 0.9% on average, based on Bank of America Merrill Lynch's Global Broad Market Index.
Fed Chairman Ben S. Bernanke signaled last week that he will keep pumping record amounts of money into the world's largest economy and reiterated a pledge first made two years ago to keep interest rates "exceptionally low." The U.S., the biggest oil consumer, will expand 3.2% this quarter, from 1.8% in the previous three months, and accelerate through the end of the year, according to the median of 73 economists' estimates compiled by Bloomberg.
"We're in a risk-on mode being helped by Bernanke," said Arjuna Mahendran, the Singapore-based head of investment strategy for Asia at HSBC Private Bank, part of Europe's largest bank by market value. The stimulus means "big walls of money going into commodities, stocks and emerging markets," he said.
The S&P GSCI Total Return Index rallied for an eighth month, the longest winning streak since 2004 when growth in the U.S. economy drove demand for raw materials. Silver, coffee, cocoa and gasoline led the gains in percentage terms in April.