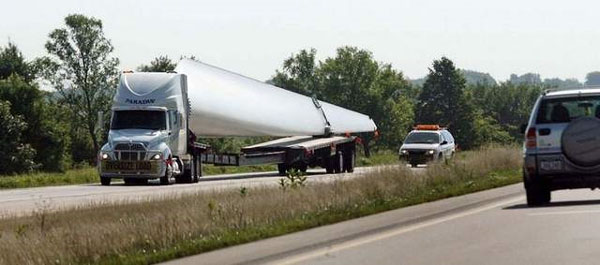 Beginning next month, motorists on Iowa highways will notice more of those huge trucks, which can be as long as 180 feet and weigh almost 400,000 pounds, hauling turbine parts as Iowa's wind industry goes through another growth spurt.
MidAmerican Energy of Des Moines will begin construction of a 593-megawatt wind farm, which will include 193 turbines in Adair County alone.
"Wind turbine units can have up to nine loads apiece," said Phoumine Baccum, who administers oversize truck permits for the Iowa Department of Transportation. "The blades come in three pieces, each a separate load, the towers are usually three separate loads, and there are separate loads for the hub and the nacelle and for other equipment."
Brad Kohlwes' family trucking company in Des Moines hauls for wind farms. "This is a real boost for the trucking industry and for Iowa's economy," he said. "I just wish we didn't have to pay more than $4 for diesel like we do."
Trucks loaded with turbine parts get about 4 miles per gallon, he said.
The wind industry in Iowa is feeling chipper again as it expands after a down year in 2010, when no new capacity was added in the state.
Iowa ranks second in the United States with wind capacity of 3,675 megawatts, behind Texas' 10,085 megawatts but still ahead of California's 3,177.
Because of its relatively smaller population, Iowa ranks first in the nation in the%age of its electricity generation that comes from wind. The MidAmerican expansion will bring Iowa's%age to 20%.
The wind industry got a boost late last year when Congress renewed investment tax credits for wind farm construction.