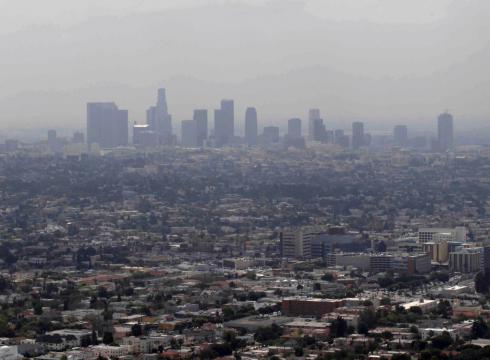 USA Today, Wendy Koch
- Most U.S. cities with the dirtiest air are getting cleaner, but about half of Americans still live in areas where it's often difficult to breathe, the
American Lung Association
reports today .
The group's 12th annual "State of the Air" report comes amid congressional efforts to stop the Environmental Protection Agency from using the Clean Air Act to regulate greenhouse gas emissions.
EPA's 2009 data, released last week, shows total U.S. greenhouse gas emissions — primarily carbon dioxide—fell 6.1% from 2008, the largest decline in at least five years. The agency, which began a multiyear plan to regulate these emissions in January, attributed the drop to less polluting fuels and lower energy consumption because of the recession.
Some improvement in air quality began prior to the recession, says Janice Nolen, author of the association's 2011 report, which credits the Clean Air Act for the progress.
The report ranks cities, counties and states for their amount of ozone or smog—as well as particle pollution such as soot and ash, both of which can lead to asthma attacks, emergency room visits and premature death. It finds:
All 25 cities with the worst ozone pollution improved their air quality between 2008 and 2009.
Half of Americans, or 154.5 million, live in counties with unhealthful levels of either ozone or particle pollution.
Honolulu and Santa Fe ranked as the two cities with the cleanest air overall.
The L.A. area remains the smoggiest, although it's improved significantly in the last decade. Bakersfield, Calif., has the worst particle pollution.
With unanimous GOP support and 19 Democratic votes, the House of Representatives passed a bill earlier this month to prevent the EPA from regulating greenhouse gases, but the Democratic-led Senate rejected it.