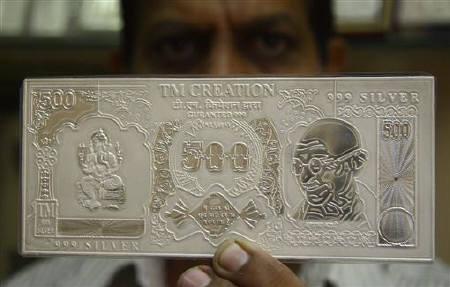 Soaring silver prices are driving Indians to recycle jewelry into bars as an easier, more reliable way to invest, a trend that will limit imports of the metal in the world's fourth largest consumer.
Problems over storage and quality make silver bars more attractive than jewelry such as bangles.
Global silver prices have risen by nearly half this year to 31-year highs, after a gain of more than 80% in 2010, far outpacing gains for gold where India is the world's top consumer.
"People are diversifying their portfolios," said Suresh Hundia, chairman of Mumbai-based silver trader, Hundia Exports, one of the country's largest private silver refiners.
"Now they have to have silver in their portfolios."
But the rising demand was unlikely to mean higher imports, he added.
"Imports will remain steady at last year's level. Lots of silver has been coming from recycling. Though demand for bars has risen sharply, consumers are not buying silver jewelry."
Indian investor demand pushed up annual silver imports By 136% last year to 3,030 tons, but this came off a low base in 2009, when a drought hit farmers' incomes, metals consultancy GFMS says.
India depends on overseas supplies to meet about 70% of its consumption, more than half of which goes into jewelry and silverware.
Although prey to the vagaries of the weather and prices, imports in 2011 could rise by 10%-15%, Prithviraj Kothari, president of the Bombay Bullion Association (BBA), estimated.
"Silver imports could rise by 10%-15% in 2011, but a lot would also depend on the monsoon, volatility and prices," he said.
Silver recycling from scrap has risen sharply in the south Asian nation. Supply of silver from recycling was 558 tons in 2010, a jump of nearly 2.8 times from the 2001 figure of 200 tons, GFMS data showed.