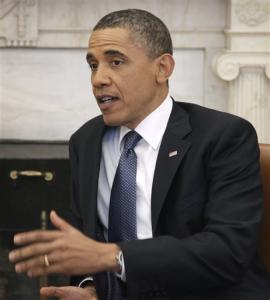 Associated Press, Jim Kuhnhenn
- As the high cost of gasoline takes a toll on politics and pocket books, President Barack Obama says he is calling on major oil producers such as Saudi Arabia to increase their oil supplies to help stabilize prices, warning starkly that lack of relief would harm the global economy.
"We are in a lot of conversations with the major oil producers like Saudi Arabia to let them know that it's not going to be good for them if our economy is hobbled because of high oil prices," Obama told a Detroit TV station.
His remarks signaled a broad new appeal in the face of skyrocketing gasoline prices in the United States and they came as he reiterated a call for Congress to repeal oil industry tax breaks.
In interviews Tuesday with WXYZ in Detroit and in WTKR in Hampton Roads, Va., Obama said the message to major oil producers like Saudi Arabia is that an economy that buckles because of high oil prices won't grow and won't be good for them or for the U.S.
Obama acknowledged disruptions in oil production because of the war in Libya. But he said others can make up the difference and "we're pushing them to do so." Libya supplied less than 2 percent of world demand. Saudi Arabia and other OPEC countries already are covering some of that shortage by boosting production.
The president's effort to compel more overseas production echoed calls by President George W. Bush in 2008 urging Saudi Arabia to increase supplies during that year's spike in gasoline prices. The Saudis rebuffed Bush's efforts.
Obama said he has stressed the self-interest of oil producing nations, arguing that "if we're not growing, they're not going to be making money either.
"And so they need to increase supplies," he told WTKR.