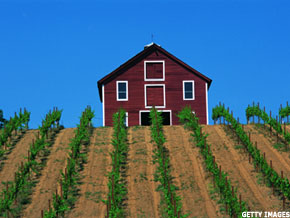 The good times are rolling for fertilizer producers as they get set to post strong first-quarter profits, analysts say. But at least a few questions remain for any investor looking to judge where share prices in this normally volatile sector are headed.
Record-high crop prices mean farmers have a lot to spend and much as incentive to grow as Nature, Technology and the Gods (read: the weather) will allow.
"The lay down of fertilizer is going to be big," says Charles Neivert, an analyst at Dahlman Rose, a small investment firm in New York focused on the commodities supply chain.
Nutrient producers have responded in kind. In North America, the average price for nitrogen has gone from $495 to $525 between the fourth quarter and the first, while phosphate has risen from $325 to $373.
That bodes well for the second quarter as well as the first, since the highest of those prices will have been for product shipped after the first period. Expect companies to make hugely bullish remarks and to revise their 2011 profit outlooks to the upside, analysts say.
Still, there are a few potential stumbling blocks for fertilizer companies and their share prices.
First, India is holding out. India, which buys its potash on contract on a semi-annual basis, has told potash suppliers that it can't afford to pay any more than $420 a ton. The potash suppliers want $450. "India will be the price setter now," says Edlain Rodriguez, analyst at Gleacher & Co.
Over the longer term, another worry is the ancient and ever-present one: the weather. The western growing season is already less-than-bumper, with extreme flooding in the Midwestern corn belts. Meanwhile, extreme drought in the winter-wheat-growing Great Plains (which has reached 1930s Dust Bowl proportions), has threatened that crop.