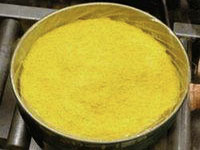 Uranium prices have slumped. In the wake of the disaster at Japan's Fukushima Dai-Ichi nuclear plant, the price of a pound of uranium on international markets has tumbled all the way down to about $56.50, compared to $73 in early February. A few years ago, it briefly topped $130.
Uranium has tumbled while oil has been booming. Today, you can get 2 lb. uranium for the price of one barrel of West Texas Light crude.
And yet the world needs energy. According to UX Consulting VP for International Operations Jonathan Hinze, you need 10.4 barrels of oil to generate the same amount of energy as 1 lb. of uranium. It's not quite as simple as that, but the comparison is not a facile one either.
The world may not like nuclear power, but it probably doesn't have the luxury of going without it either. Energy needs are soaring.
We're going to need a lot more energy, from pretty much every source we can findócoal, natural gas, oil, wind farms, solar paneling and, barring miracles, nuclear reactors. No matter what you think of renewable and clean energy, nobody thinks they can provide all the answers.
China knows this; the country's trimmed expansion plans from 90 new reactors to 70, says Hinze, but it is still expanding. The same goes for other countries, as well. The Germans are able to be so "green" at home, says Hinze, partly because they are able to buy some of their energy from nuclear France.