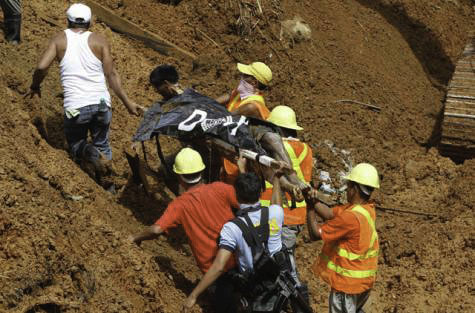 Philippine officials discovered a dangerous crack Sunday in a mountain hit by a deadly landslide last week and want troops to force dozens of illegal gold miners to leave before another disaster strikes their remote southern village.
Environment and Natural Resources Secretary Ramon Paje said he and other officials discovered the 70m-long fissure on a mountain slope above Kingking village during an aerial survey.
A portion of the slope along the crack collapsed after a downpour Friday and buried shanties, bunkhouses and tents below, leaving at least five dead and 17 missing.
Soldiers, police and fellow miners resumed a search for the missing Sunday amid sagging hopes that any more survivors could be pulled out from about 30 metres of mud, rocks and debris that covered at least one hectare of Kingking in Compostela Valley province, officials said.
About 13 people have been rescued from the muck since Friday.
Unstable land along two-thirds of the deep fissure could collapse with the next heavy rain and bury about 30 shanties and bunkhouses still inhabited by gold miners, Paje said.
Paje said he would discuss with provincial, military and police officials how the gold miners could be evacuated immediately out of harm's way in the village in Pantukan, about 930 km. southeast of Manila.
Interior Secretary Jesse Robredo, who also flew to Pantukan, said authorities would forcibly move the gold miners from high-risk areas if they do not heed an appeal to relocate early this week.
Despite the danger, hundreds of impoverished villagers have dug for gold in narrow, dangerous shafts in far-flung villages like Kingking for years. Many have ignored warnings and defied occasional government crackdowns on illegal mining by the undermanned military and police.