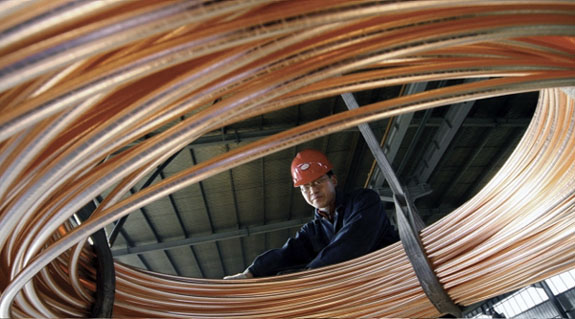 Copperfinger doesn't have the same ring as Goldfinger. Copper isn't glamorous. Unlike gold, it is not likely to be recommended as an investment by Glenn Beck. Yet, before and after the financial crisis, copper has been one of the world economy's star performers.
Sure, you were smart if you bought gold at the bottom of the financial crisis, back in February 2009. With gold touching a record $1,500/oz. last week, you're up 75%. But if you'd bought copper, you'd be up 181%.
Today the world's copper mines are booming. I spent several hours last Tuesday sweltering nearly a mile underground at the huge Konkola mine near Chin-go-la in Zambia. It's a powerful symbol of the new economic world order. The miners are Zambians. The technical guys are (white) South Africans. The owners and managers are Indians.
Like most Zambian mines, this particular one was not viable with prices below $2,000/ton, as they were between 1997 and 2003. But with copper up to about $9,400, it makes sense to sink new shafts to reach the deepest ore, even though it means dealing with prodigious amounts of underground water.
So just why has copper been trumping gold as an investment? The answer is partly that the extraordinarily loose monetary policies adopted by Western governments to combat the financial crisis have driven up the prices of nearly all commodities.
But the key to the copper story is soaring Asian demand. Asians want modern houses with Western-style wiring and plumbing. They want cars. They want electronic gadgetry. So they want copper. In 2005, China accounted for 22% of global copper consumption. In 2009, the figure was 39%. Try as they may, the copper miners can't keep pace. And the supply of copper in the world isn't limitless.